Group Haselbach
Ubiquitin chain recognition and editing by the human 26S proteasome
Group Leader, Associated Member
David Haselbach
David Haselbach finished his PhD in Biophysics at the MPI for Biophysical Chemistry. After a postdoctoral stay in the same institute he became Fellow for electron microscopy at the IMP in Vienna in 2017 and became Group Leader there in 2020.
Institute

IMP - Research Institute of Molecular Pathology

Phone

+43 1 79730 3009

Mail

david.haselbach@imp.ac.at
Projects within consortium
Proteasomal degradation serves as key event in the regulation of a plethora of cellular processes. While the general mechanism of proteasomal degradation is well established, key events such as the ubiquitin chain binding and processing as well as the product release are not. The Haselbach lab seeks to address these questions with modern cryo EM and biophysical methods.
Cell division and differentiation depend on the proteasomal degradation of regulating proteins like securin or myc. However, how the proteasome recognizes and distinguishes substrates is still largely unknown. Prerequisite for degradation of a target is its posttranslational modification with a ubiquitin chain. However, ubiquitin is a versatile signal. Summarized as the ubiquitin code, thousands of diverse polyubiquitin chain topologies can be formed with different lengths and linkages. However, how the proteasome selectively distinguishes between these topologies is unclear, as the early substrate-binding and initiation steps have previously been invisible to conventional approaches. This is due to the efficient rate of catalysis by the proteasome and additional editing of ubiquitin chains by proteasome associated factors. Using innovative approaches, including time-resolved cryo-electron microscopy (trEM) sample preparation, deep learning based image processing to extract thermodynamic insights, in-situ cryo EM and single-molecule techniques we will examine a systematic set of polyubiquitin chains. We will employ these approaches first to apo-proteasome complexes but will later extend to proteasomes that contain ubiquitin chain editing enzymes as they would be found in the cell.
On a broader perspective the Haselbach lab is interested in the proteasomes regulation and adaptation in stress and disease states.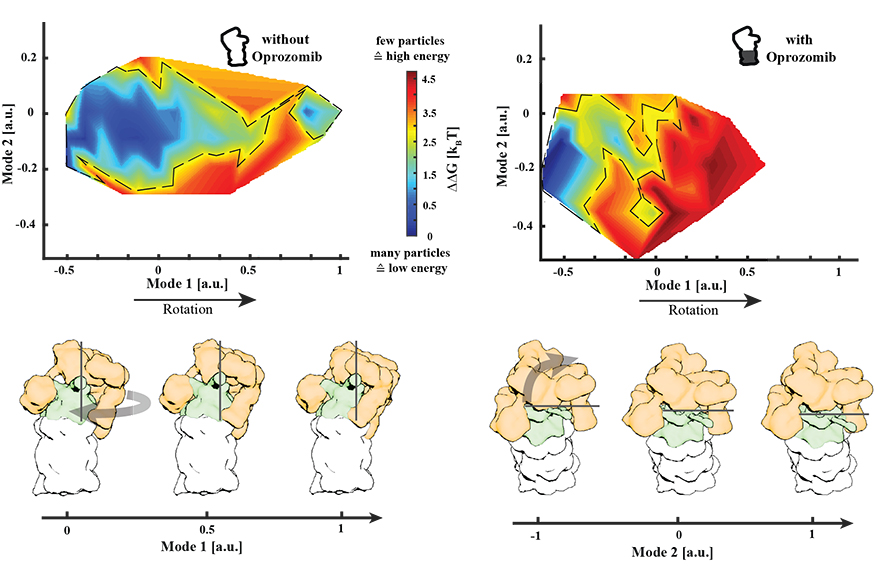 Project members
Master Student

David von Bonin

Associated
Targeted Protein Degradation related publications by Group Haselbach