Group Clausen
PROTAC 2.0: The reprogramming of giant E3 ligase
Group Leader
Tim Clausen
Tim Clausen conducted his PhD studies in 1994 at the at the MPI of Biochemistry in Martinsried and continued there as postdoc in 1997. In 2002, he became Group Leader at the IMP in Vienna, where he is now Senior Group Leader since 2009.
Institute

IMP - Research Institute of Molecular Pathology

Phone

+43 1 79730 3300

Mail

tim.clausen@imp.ac.at
Projects within consortium
The giant E3 ligase HUWE1 is at the center of our research. We will address its interplay with other quality control factors in removing unassembled orphan proteins. As HUWE1 is an essential E3 enzyme, death-marking a broad range of substrates, it also represents an appealing PROTAC platform. To enable this, we will delineate its substrate-targeting mechanism by an integrative structural biology approach.
Apart from its crucial biological role, the targeted degradation of proteins attracted much interest in the Medicinal Chemistry field. A recent approach termed PROTAC (Proteolysis Targeting Chimeras) is considered especially interesting. PROTACs are bi-functional small molecules that are composed of a chemical group targeting the "death-marking" E3 ligase, a flexible linker and a binding epitope for a protein of interest (POI). By physically linking E3 and POI, the two-headed molecule induces the artificial ubiquitination of the POI and consequently its degradation by the proteasome.
In our project, we would like to further develop the PROTAC concept. We will focus on HUWE1, a giant E3 ligase that so far escaped a detailed structural characterization and for which the substrate-targeting mechanism is unknown. As HUWE1 is one of the most promiscuous E3 ligase in the cell, implicated in a myriad of cellular pathways, a respective PROTAC platform would have a great potential for advancing small-molecule drugs that induce degradation of a broad range of neo substrates. Aside this biomedical impact, HUWE1 is a fascinating ubiquitination enzyme by itself. It is one of the founding members of a distinct Protein Quality Control (PQC) mechanism watching the assembly of multiprotein complexes and removing unassembled parts. Our approach will address the HUWE1 surveillance function and its interplay with other quality-control factors, protecting cells from proteotoxic stress caused by imbalanced macromolecular assembly.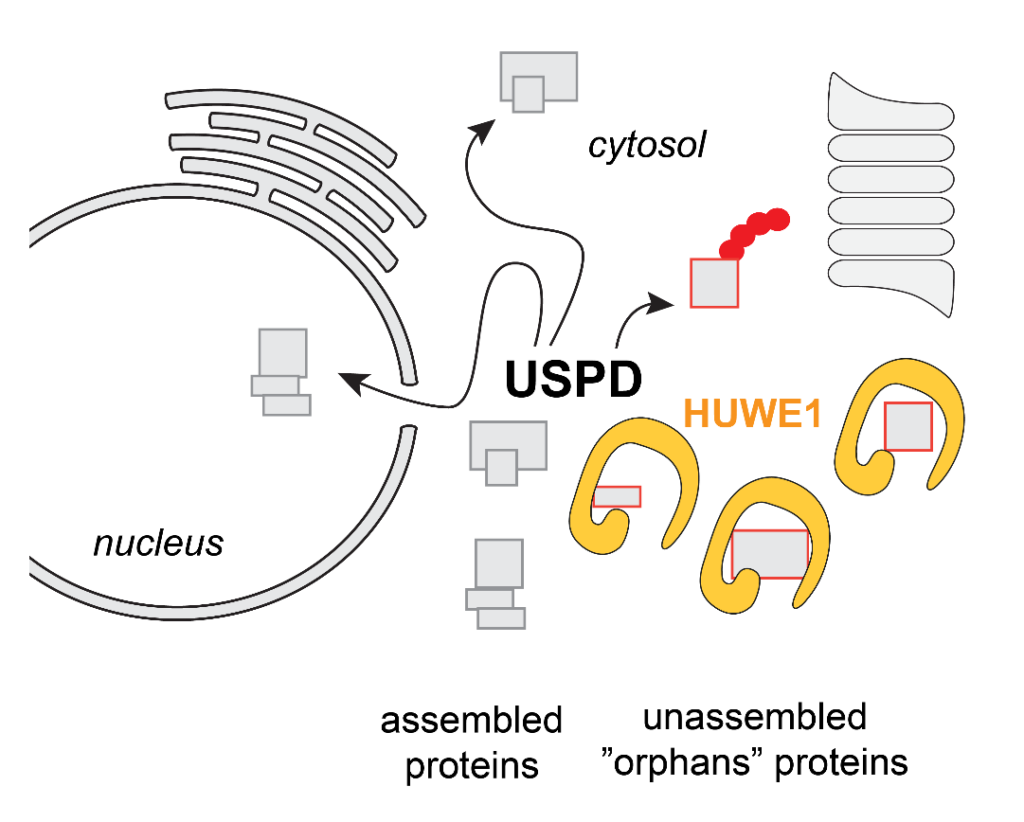 Project members
Computer Scientist

Juraj Ahel

Associated

PhD Student

Julian Ehrmann

Associated

PhD Student

Victoria Faas

SFB Member

PhD Student

Rebeca Gorgova

SFB Member

PhD Student

Darja Kordic

Associated
Targeted Protein Degradation related publications by Group Clausen